Etymology: three leaves (L); ref. to three leaf-like plates on the gonocoxite
Type locality: Kasala, Uganda
Type depository: Natural History Museum, London, England, United Kingdom (NHMUK)
WRBU LUCID KEYS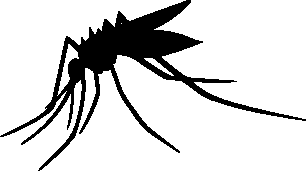 WRBU - Genera - Global - Adult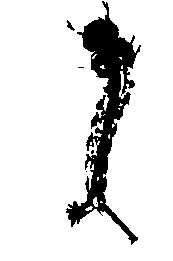 WRBU - Genera - Global - Larva
DISTRIBUTION NOTES
Benin, Burkina Faso, Cameroon, Central African Republic, Cote d'Ivoire, Democratic Republic of the Congo, Ethiopia, Ghana, Kenya, Mali, Namibia, Nigeria, Republic of South Africa, Sudan and South Sudan, Tanzania, Uganda.
IMPORTANT REFERENCES
Edwards 1914b: 65 (M*, F)
Edwards 1941: 339 (M*, F)
Ovazza et al. 1956: 176 (P*, L*)
van Someren 1956: 11 (L)
Worth & De Meillon 1960: 250 (distribution)
Rickenbach et al. 1976: 97 (distribution)
Jupp 1996 (M*, F*; key)
CURRENT SYNONYMS
None
CURRENT SUBSPECIES
None
CITED REFERENCES
Edwards, F.W. (1914b). New species of Culicidae in the British museum, with notes on the genitalia of some african Culex. Bulletin of Entomological Research (London), 5(1), 63–81.
Edwards, F.W. (1941). Mosquitoes of the Ethiopian Region. III. Culicine adults and pupae. Bulletin of the British Museum (Natural History), Entomology.
Jupp, P.G. (1996). Mosquitoes of southern Africa. Culicinae and Toxorhynchitinae. Hartebeespoort, Republic of South Africa: Ekogilde.
Ovazza, M., Hamon, J., & Neri, P. (1956). Contribution a l'étude des Diptères vulnerants de l'empire d'Éthiopie I. Culicidae. Bulletin de la Société de Pathologie Exotique, 49(1), 151–182.
Rickenbach, A., Eouzan, J.-P., Ferrara, L., & Bailly-Choumara, H. (1976). Données nouvelles sur la presence, la frequence et la repartition des Toxorhynchitinae et Culicinae (Diptera, Culicidae) au Cameroun. 2. Genres Eretmapodites et Culex. Cahiers ORSTOM. Série entomologie médicale et parasitologie, 14(2), 93–100.
van Someren, E.C.C. (1956). Undescribed culicine larvae and pupae from Uganda. Proceedings of the Royal Entomological Society of London, Series B: Taxonomy, 25(1–2), 3–12.
Worth, C.B., & De Meillon, B. (1960). Culicine mosquitoes (Diptera: Culicidae) recorded from the province of Moçambique (Portuguese East Africa) and their relationship to arthropod-borne viruses. Anais do Instituto de Hygiene e Medicina Tropical, 17(1–2), 231–256.
CITE THIS PAGE
Walter Reed Biosystematics Unit (Year). Culex trifoliatus species page. Walter Reed Biosystematics Unit Website, http://wrbu.si.edu/mosquitoes/vectorspecies/cx_trifoliatus, accessed on [date (e.g. 03 February 2020) when you last viewed the site].